Apple confirms customers unable to pick up Apple Store repairs until outlets reopen
Apple on Friday confirmed customers who left an iPhone, iPad, Mac or other product at an Apple Store for repair will not be able to claim their device until the locations reopen.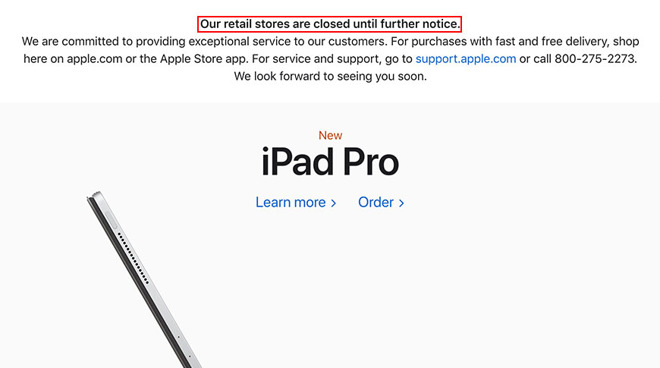 A message appearing on Apple's webpage notes retail stores will be closed "until further notice."
When the Cupertino-based tech giant shuttered all branded retail stores outside of China on March 14 in response to the ongoing COVID-19 crisis, it granted customers a two-day window for repair pickups. As AppleInsider reported this week, that period expired on Tuesday.
Owners who were unable or unwilling to make the trip will now be left without their device until Apple Stores reopen, Apple said in a statement to Business Insider.
"We made every possible attempt to get people's products back to them," a company spokesperson said. "There certainly are people that, for whatever reason, did not pick up their products before we closed and their products are at our stores."
Apple is taking a different tack with devices that were sent out to a repair center. Typically, those units are mailed back to a nearby Apple Store for pickup, but during ongoing store closures Apple is attempting to contact owners for direct return.
Apple Stores were initially scheduled to reopen on March 27. That timeline was brought into question early this week when the company published a banner on its website saying retail locations in the U.S. and abroad will remain closed "until further notice."
["source=appleinsider"]