BenFred: Cardinals might benefit from minor league inspiration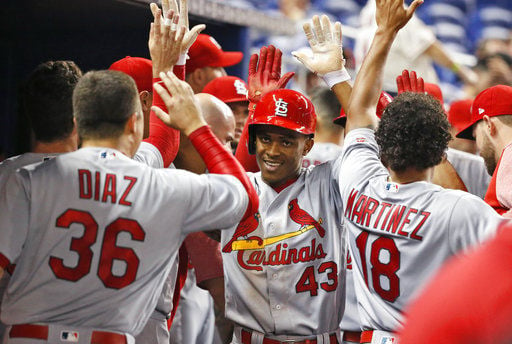 Whether you place the blame on the general manager, the manager, the players or a combination of the three, anyone who has watched Cardinals baseball this season can agree on this: It's not working.
The Cardinals are 31-37 and fourth in the National League Central entering a greuling and defining stretch of 20 games in 20 days.
GM John Mozeliak has shaken up manager Mike Matheny's staff a bit and churned the roster some, but before he considers putting a for sale sign in the yard — a real possibility, he acknowledged during a candid press conference earlier this month — he must exhaust his attempts to bring this often-lackadaisical club to life.
One potential option? Inject some youth.
Here are four minor leaguers who might provide some oomph in St. Louis.
One already has.
MAGNEURIS SIERRA
+4 
All Sierra did during his eight-game body of work in the majors was get at least one hit in every game and reach first base safely 43 percent of the time. The Cardinals went 6-2 in the games he played in. These days, Sierra, who was shipped out June 4, is in the midst of a seven-game hit streak at Class AA Springfield. He's 13-for-26 with three doubles, a triple and an inside-the-park home run during the stretch. The 21-year-old's game is still growing, but he never looked overwhelmed at the major league level. In fact the Cardinals seemed to feed off his speed, energy and excitement.
LUKE WEAVER
+4 
Luke Weaver is 6-1 with a 2.33 ERA in nine starts (46.1 innings) at Class AAA Memphis. He's averaging 10 strikeouts and fewer than two walks per nine innings. The 23-year-old righthander has K'd 28 percent of the batters he's faced. He's induced groundouts from 18 percent. Of the 37 hits he has allowed, only seven (four doubles, three home runs) have gone for extra bases.
The big question with Weaver is his back. It bothered him during spring training and flared up this season. If he's healthy, he could help fortify a rotation that is looking wobbly due to the recent struggles of Adam Wainwright and Michael Wacha. Weaver was sped through the system to help last year's Cardinals, and some wrote him off due to a 1-4 record and his 5.70 ERA in eight starts and one relief appearance. That's silly. He should be better suited for another shot. But if Weaver's back is holding him back, there's another Memphis pitcher in the mix.
JACK FLAHERTY
+4 
Flaherty surrendered two homers and three earned runs in 5.2 innings in Class AAA Memphis' 5-4 win against Round Rock on Monday night. It was the second start in a row in which the righthander was touched for two home runs. But Flaherty still has a 3.04 ERA in four Class AAA starts (23.2 innings), and he completely baffled opponents at Class AA to start the season, cruising to a 7-2 record and a 1.42 ERA in 10 starts (63.1 innings) there. In Memphis, Flaherty has averaged 11.5 strikeouts and two walks per nine innings. The 21-year-old righthander should be intriguing to a team that is concerned about its starting rotation's recent struggles.
LUKE VOIT
+4 
There is power in his bat, but he only plays first base, meaning it's going to be hard for him to find at-bats in the majors. No, we are not talking about Matt Adams. This time, it's Luke Voit, the Class AAA first baseman who just keeps slugging. The 6-foot-3, 225-pound Wildwood native and Missouri State product now boasts a .396 on-base percentage and a .560 slugging percentage through 66 games with the Redbirds. The former 22nd-round draft pick has crushed 12 homers and 21 doubles this season, somehow rumbling to one triple along the way. Voit's strikeout percentage (18.2) isn't ideal, but it's not horrid. And he's taken 25 walks to his 50 K's. His power surge hasn't come with a diminished average (.315).
Why Voit here instead of prized catching prospect Carson Kelly or up-and-coming outfielder Harrison Bader? Here's one reason: He's 26. Unlike Bader (23) and Kelly (22), there isn't really a downside to the righthanded hitting Voit awaiting spot starts and pinch-hit, home-run opportunities in St. Louis instead of playing every day in Memphis. He's not Chad Huffman old (32), but at this point he is what he is.
The Cardinals have to be kicking themselves now that Adams is raking in Atlanta. That kind of power could be used here. Isn't it worth seeing if Voit's might translate?
Of course, there is only so much room on the roster. Changes would have to be made to give any of these kids a shot. That shouldn't be much of a hindrance these days. There aren't many Cardinals the club can't survive without. A shot in the arm might be the reward.
Why not shake things up a bit and add some new blood before the All-Star break? The Cardinals need to know what they have and what they are by then.