Origin PC Eon15-S Review: What A Budget Gaming Laptop Looks Like These Days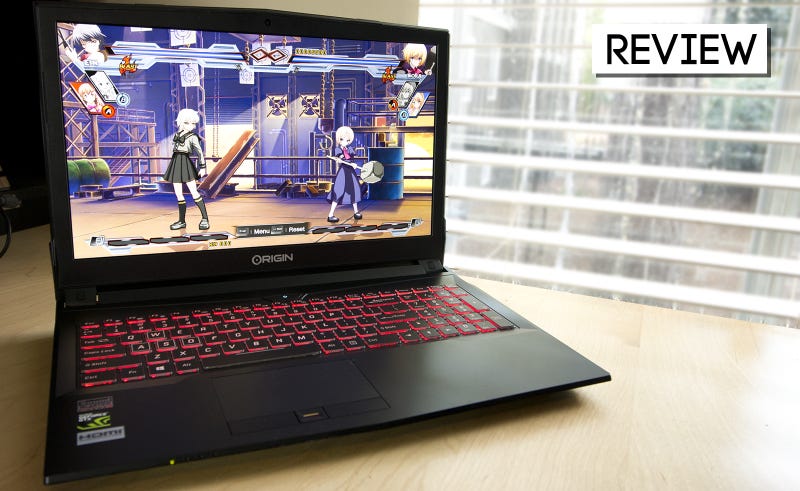 Somewhere between the fancier notebooks at your local big box store and high-powered desktop replacements is the "budget" gaming laptop, a modestly-priced portable system built to play games well enough. Origin PC's latest Eon15-S is the perfect example.
The Eon15-S is a 15-inch laptop designed by system builder Origin PC to deliver the boutique custom PC experience at a low cost of entry.
It's got a 15.6 inch 1080p IPS LED screen and a Nvidia Geforce GTX 1050 Ti graphics card. The most basic configuration, priced at $999, comes with 8GB of DDR4 memory and an Intel Core i3-7100H dual-core processor running at 3.00GHz. Our system was slightly beefier than that, with a Core i5 and a total of 16GB of DDR4. Extra storage options brought the grand total up today $1,350.
Origin PC Eon15-S Review Specs
Case: EON15-S
Exterior: ORIGIN PC Black
Display Type: FHD 1920 x 1080 15.6″ IPS Matte Display
Graphic Card: NVIDIA GeForce GTX 1050 Ti 4GB GDDR5
Processor: Intel Core i5-7300HQ Quad-Core 2.50GHz (3.50GHz TurboBoost)
Memory: 16GB ORIGIN PC Approved DDR4 2400MHz (2 X 8GB)
Operating System: MS Windows 10 Home
Hard Drive: 240GB ORIGIN PC Approved Solid State Drive, 1TB Seagate 2.5″ FireCuda Flash-Accelerated Hard Drive
Audio: Integrated High-Definition Audio powered by Sound Blaster Cinema 3
Onboard LAN: Onboard Network Port
Networking: Intel Dual Band Wireless-AC 3168 +BT Combo
SuperSpeed USB 3.1: SuperSpeed USB 3.1
SuperSpeed+ USB 3.1 Type-C: USB 3.1 Type-C
Media Card Reader: Media Card Reader
Finger Print Reader: Integrated Biometric Fingerprint Reader
Integrated Camera: Built-in 2.0M FHD Video Camera
Warranty: Lifetime 24/7 U.S. Based Support and Lifetime Free Labor. 1 Year Part Replacement & 45 Day Shipping Warranty
Height: 1.0"
Width: 14.9"
Depth: 10.5"
Weight: 5 lbs
Price as configured: $1,351
Performance
The Eon15-S is a laptop created to play modern games between 30 and 60 frames per second at 1920 x 1080 resolution, and it does that. Rise of the Tomb Raider averaged about 53 frames-per-second on high settings. Battlefield 1 on ultra was right around the 50 mark. Tweaking settings can speed things up, if you're willing to sacrifice visual quality. And if you're not, this might not be your laptop.
What's Great About It
What A Lovely Display: The first sacrifice made in a "budget" gaming laptop is generally the display. Good LCD panels cost good money, and so-so panels are a good way to cut corners. The Eon's 1080p IPS LED is bright, sharp and incredibly colorful. The viewing angle is excellent, making it perfect for people who like to play games in their periphery (maybe they exist, I don't know.)
It's A Good Look: I like what Origin does with the design of their laptops. Beauty is in the eye of the beholder, of course, but I like the subdued lines, and modest logo combo going on up top, and you can't go wrong with the starship exhaust look going on in back.
Those looking for something other than basic black are in luck as well, as Origin offers a wide array of custom paint options, from metallic pink (which they wouldn't have gotten back had they sent it) to flames and special finishes.
All The Ports: The Eon15-S has the usual array of USB 3.0 and 2.0 ports (two and one respectively). It's got a USB C port, which will come in handy eventually, a network port and even my favorite—a memory card reader. But where the system goes above and beyond is the video outputs. Not only do we get the standard HDMI out, we've also got a pair of mini DisplayPorts, one of which supports Nvidia's GSync tech. It's like they want you to hook up a couple of external monitors or something.
The Keyboard, Mostly: Now, I am a big fan of mechanical keyboards, and this is not a mechanical keyboard. As flat membrane keyboards go, however, this one is pretty nice. It's got a soft feel that's never mushy. It's got RGB backlighting. Plus they've even managed to fit a number pad on there, for folks who can't live without those extra digits.
Removable Battery: It feels like forever since I've seen a laptop with a removable battery. That's probably because most laptops I review are trying to cram as much power into a tiny space as possible, which results in tucking the battery away into impractical spaces.