A council in south-east London has created what it describes as "the UK's first pop-up village" to house families who are forced to live in B&Bs in other parts of the capital.
Rapidly rising property prices and rents, combined with the loss of social housing through right to buy, have put councils under growing pressure to find new ways to help people off their housing lists.
In Lewisham one solution is a £4.3m scheme to provide 24 homes and 880 sq m of business space that can be picked up and moved at a later date, allowing the council to make use of vacant brownfield land while longer-term projects are finalised.
The Place/Ladywell project is taking place on the site of an old leisure centre that will eventually be used for a mixture of social and private housing and a new school. But with the planning process notoriously complicated and long, the local council decided to put the area to use for temporary homes. Just over a year after planning was granted for the temporary village, the cluster of two-bedroom flats is almost complete and the first tenants should move in in June.
House prices in the borough have risen by 15% over the past year, according to the Land Registry, reaching an average of £447,291. Rents are also high: last year the average cost for a two-bedroom flat was £1,312 a month. For Lewisham council this makes housing vulnerable residents a difficult business. It has 9,135 households on its waiting list for homes, 540 of them in temporary accommodation in B&Bs, mostly outside the borough.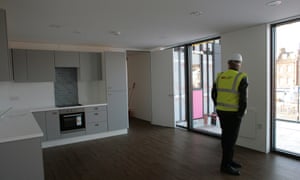 The two-bedroom flats on Lewisham high street will provide temporary accommodation for families who are living in B&Bs. That type of accommodation "is not only not good, it is expensive", said Jeff Endean, the council's housing strategy manager. Rents on the new homes have not been finalised, but are expected to be set somewhere between social rents and market rents, said Endean. They will be paid through housing benefit.
The factory-built flats arrived on the site late last year, each home coming in two pieces: one is the living area with all of the services and kitchen built in, the second provides the bedrooms. The homes have been designed by Rogers Stirk Harbour + Partners, the architects behind the YMCA's Y:Cube – individual units for single people in need of housing. Each home in the Ladywell pop-up village is three times the size of the Y:Cube, and the architects say it is a step up from that design.
"Our only constraint is the volume you can get on the back of a truck and get round the country," said Ivan Harbour. The architects have pushed things to the limit, building homes that are bigger than the London space standards, with high ceilings that Harbour said "have the scale of the ground floor of a Victorian house".
Each two-bedroom home exceeds the London space standard at 75 sq m and includes a storage room big enough for some estate agents to attempt to pass it off as a bedroom. The flats are well insulated and will cost just £10 a month to heat in winter months. Floor-to-ceiling windows bring in lots of natural light, and large balconies add on a huge private outdoor space for each home. Kitchen work surfaces are made of expensive but hard-wearing Corian, while MDF panelling on the walls mean that interiors can be revamped easily and cheaply between tenancies. The bright cladding outside can also be replaced if they are moved somewhere where they need to be more muted.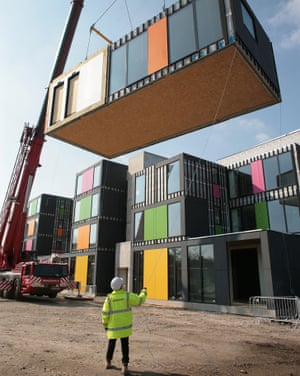 The flats have cost £1,200 per sq m to make and fit out with kitchens, white goods and bathrooms, working out at £90,000 for each home. Harbour said building them in a factory rather than onsite allowed costs to be kept down. The lightweight timber construction has also meant savings, as the foundations only need to be half as deep as for equivalent brick-built blocks. They have a lifespan of 60 years and can be moved several times in that period and configured however the council needs them to be. A two-bedroom family home can be adapted to provide an accessible one-bedroom home for tenants with disabilities.
Planning permission on the site lasts for another three years. "The typical length of temporary accommodation is 18 to 24 months, so in the time that they are here we hope there can be two cohorts of people who can move in then be moved out and securely housed," said Osama Shoush, the project manager. "As the time comes to an end we'll manage it so that we won't have to evict anyone."
Not everyone has welcomed the new addition to the high street. Denise Flintham, who owns a shop across the road, said the buildings were "a total and utter eyesore". However, other residents are more enthusiastic. Serophina Gregory, an events and social media manager, said: "I think it's great and a really good idea that they're providing a safe home for homeless people. Too much of London is being taken over by big developments that don't benefit the community."
Harbour said other councils had shown an interest in the project and interest was likely to grow once the flats were finished. He said after the Y:Cube was unveiled "people wanted to know if they could get one for their garden for their children to live in". For the council, although the buildings are temporary, they are part of its long-term plan."
Shoush said: We don't want the temporary use to be something that happens and then ends when the regeneration happens, we want it to be the start of the regeneration."