Samsung Galaxy A8+ Review
The Samsung Galaxy A8+ (2018) features a 6-inch Infinity Display
It has dual front cameras and a single rear camera
It supports Samsung Pay in India
Nearly a year after the first smartphones with 18:9 screensdebuted at MWC 2017, nearly every manufacturer has jumped on board. This kind of design started out as a novelty, quickly became trend, and is now pretty much a mainstay of smartphone design. It isn't any surprise, since this is the first time in a very long time that phones have looked any different, and people do feel like they're getting something better and more modern. Phones with 16:9 screens, (and heaven forbid, actual buttons on the front) do now seem old-fashioned.
Samsung gained an early lead with its Galaxy S8 and Galaxy S8+ (Review) at the beginning of last year (though it went with 18.5:9 which it calls "Infinity Display") and then released the Galaxy Note 8 (Review) six months later, but didn't seem think the rest of its range deserved the update. Meanwhile, its competitors were clambering over themselves to make sure they didn't fall behind the curve. Over this past year, we've seen dozens of new 18:9 phones launching across the price spectrum. The most notable example of that is OnePlus rushing to replace its barely five-month-old OnePlus 5 (Review) with the OnePlus 5T (Review), just to make sure it didn't cede even the slightest ground to its competitors.
That makes today's review subject all the more interesting – the new Galaxy A8+ (2018) is Samsung's first non-flagship phone to be graced with an Infinity Display, and it's priced to go right up against the OnePlus 5T. Is Samsung too late to the party, or has it been worth the wait? We're about to find out.
Samsung Galaxy A8+ (2018) design
As its name suggests, this is one large phone. Samsung hasn't launched the smaller Galaxy A8 (2018) in India, which is a pity, because the A8+ (2018) can be a bit of a handful. It's relatively thick and heavy at 8.3mm and 191g. That weight also feels unbalanced, especially when typing, which requires you to hold the phone from close to the bottom. It will stick out of many pockets and generally make itself felt wherever you try to stash it.
Samsung has listed two colour options for this phone, black and gold. We had a black unit for review and with the removal of buttons from the front face, it looks really plain and monolithic. The front and back are both shiny glass, though only the back curves around the matte black metal frame. While some might like this look, others will prefer the gold version which has a black front face and camera module providing a bit of visual relief.
The front face is broken only by the earpiece and dual front cameras right near the upper edge. When the phone is on, Samsung's Always-On Display readout is splashed across the screen, taking advantage of the sAMOLED panel's ability to selectively light up pixels without consuming a lot of power. By default, there's a large clock, the date, the battery level, and four icons representing your most recent notifications. You can choose different clock styles and hide other information, or only enable the Always-On Display between hours of your choosing.
The power button is on the right, and the phone's single mono speaker is positioned right above it – an unusual position, but one that Samsung has been using on multiple models of late. On the left, there's a volume rocker and a tray for the primary Nano-SIM. The second Nano-SIM as well as a microSD card fit in another tray that slides into the top. There's also a USB Type-C port and a 3.5mm audio socket on the bottom. An advantage of the all-black look is that the antenna lines are barely visible.
The primary camera is in the upper middle of the rear, with a single-LED flash to the side and small, rectangular fingerprint sensor right below it. Unusually for phones these days, the camera doesn't protrude at all. There's a surprisingly subtle Samsung logo lower down, and some barely visible regulatory text at the bottom.
One feature that we're always happy to have is weatherproofing, and the Galaxy A8+ (2018) is certified IP68 for water and dust resistance. The SIM trays are flanged with rubber to prevent ingress. However, there's no mention of whether the display glass is reinforced, which is concerning.
Samsung's Galaxy A-series phones are meant to be more affordable versions of the current reigning S-series flagships, in this case the Galaxy S8 and Galaxy S8+. The Galaxy A8+ (2018) inherits many of their design cues, but it doesn't look quite as slick or refined. It's a bit too bulky and awkward to handle, and in fact it more closely resembles last year's Galaxy C9 Pro (Review). In fact, with its pricing and specifications, it serves the same market. In terms of look and feel alone, it doesn't really stand out compared to the competing OnePlus 5T or Honor View 10 (Review) either.
Samsung Galaxy A8+ (2018) specifications and software
Samsung usually plays it conservatively with specs outside its flagship tier, but with this launch, it's hoping to take on upstarts like OnePlus and Honor. The Galaxy A+ (2018) uses Samsung's brand new Exynos 7885 SoC, which has two high-speed 2.2Ghz ARM Cortex-A73 cores and six supplementary 1.6GHz Cortex-A53 cores, plus an integrated ARM Mali-G71 GPU. There's 6GB of RAM, and the only Samsung phones to ship with so much before now have been the Galaxy Note 8 and the aforementioned Galaxy C9 Pro.
You get 64GB of storage, of which about 51GB is available to users. MicroSD card support goes up to 256GB. Because of Samsung's unique 18.5:9 aspect ratio, the screen resolution is 1080×2220, giving you a tiny bit more height than the 1080×2160 that you get at 18:9. It measures 6 inches diagonally but the corners are rounded for aesthetic purposes, so you lose a tiny bit of screen space.
The Galaxy A8+ (2018) also features dual-band Wi-Fi 802.11ac, Bluetooth 5, NFC, GPS, and 4G with VoLTE. There's a rich complement of sensors, including a barometer and gyroscope in addition to the standard ambient light and proximity sensors. The battery comes in at 3500mAh which is the least we'd expect for a phone this large. Fast charging is supported, but not wireless charging.
This phone and its smaller siblings are Samsung's first to feature dual front cameras. There's one with a 16-megapixel sensor and another with an 8-megapixel sensor, and both have f/1.9 apertures. The rear camera is a 16-megapixel unit with an f/1.7 aperture. Surprisingly, video recording tops out at 1920×1080. There's also no optical image stabilisation for any of the cameras.
Samsung ships the Galaxy A8+ (2018) with Android 7.1.1 which is disappointing in 2018. The Samsung Experience skin on top is beginning to get as bloated as the company's reviled TouchWiz UI from years past. At first boot, we were allowed to choose which Samsung apps we wanted installed. We were happy to ditch Samsung Email, Samsung Notes, and Samsung Internet Browser, but there was no way to know what exactly Samsung Connect and Samsung Members are. Samsung Voice Recorder and Samsung Pay are optional apps.
On the home screen, there's a giant My Galaxy widget showing off the phone's various features and advertising services such as ordering a meal or taxi and paying bills. You need to sign up with your phone number, but when we tried it we didn't receive the required one-time password by SMS for hours. You have to register for My Galaxy if you want to be able to find a phone service centre and book an appointment, or chat with tech support.
Samsung's Bixby voice assistant takes up a page to the left of the first home screen and requires you to create a Samsung account which is a separate process. Interestingly, the Galaxy A8+ doesn't get Bixby as a voice assistant – you only get reminders of your upcoming calendar appointments and panels for things like the weather and news. There's no Bixby key on the side of the phone, and long-pressing the Home button brings up Google Assistant (or S-Voice if you choose) so Bixby as a feature isn't the same as it has been advertised on Samsung's flagships.
There's more bloat around every corner – Samsung has tried to transform even the humble Contacts app into a social network with sharable status updates and profile pictures. The Samsung Gallery creates "stories" and multiple apps want you to use a "customisation service" which collects your stored contacts and tries to determine which people you are closest to, for undefined reasons. Opera Max and a bunch of Microsoft apps are preinstalled, and can only be disabled but not removed. The default system keyboard is customisable in many ways and supports transliteration into Hindi, Tamil, and Telugu which could actually be useful.
In the Settings app, you'll find options to manage the full-screen scaling for apps that can't handle it natively, the on-screen Android navigation buttons, fingerprint sensor gestures, a one-handed mode, "Dual Messenger" apps (cloning apps to allow you to use multiple accounts), Samsung Cloud syncing, and split-screen multitasking.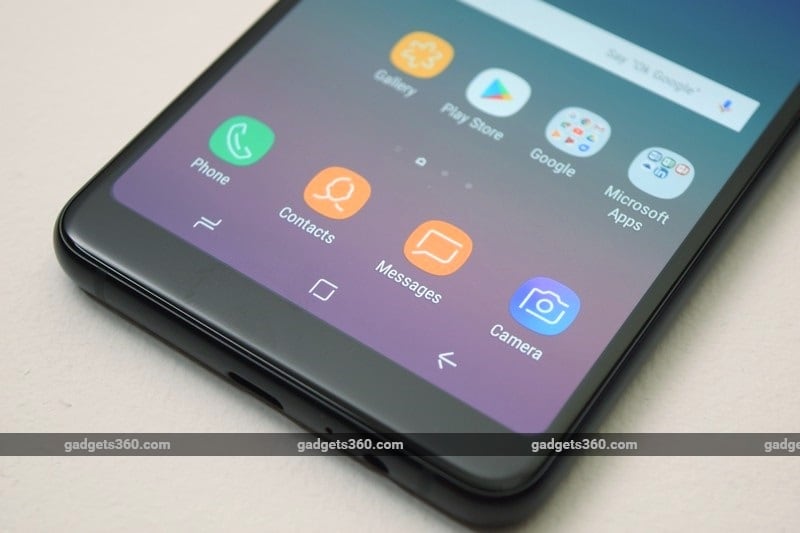 Samsung Galaxy A8+ (2018) performance, cameras, and battery life
The Galaxy A8+ (2018) has some powerful hardware and for the most part it runs without any problems. Large games load quickly, and the phone doesn't get too warm at any point. However, there were tiny hiccups on rare occasions, when we felt the UI behave a little sluggishly or touch input didn't seem to register. Hopefully, periodic software updates will iron these kinks out, because usage was otherwise perfectly fine.
Samsung's new mid-range processor is fairly powerful, and delivered scores of 78,359 in AnTuTu, 5,192 in PCMark Work 2.0, and 1,525 and 4,349 respectively in Geekbench's single-core and multi-core runs. 3DMark's Slingshot test gave us 1,069 points, and GFXBench's T-rex test ran at 31fps. We can definitely see that this phone isn't on the same level as the similarly priced OnePlus 5T and Honor View 10, but it should still be able to handle most apps and games without any problems.
The Infinity Display doesn't look quite as "infinite" on this phone as it does on Samsung's flagships, because instead of glass curving around the sides of the phone, there are still distinct edges. Even so, it's immersive and vibrant. Brightness isn't a problem even outdoors, and all kinds of content look pretty crisp and enjoyable. The odd placement of the speaker turned out to be a good thing, because it's hard to block when holding this phone in any orientation and it doesn't get muffled with the phone lying on soft surfaces. Sound is loud and voices are clear, but music comes out a bit too harsh for our liking.
One feature of the Galaxy A8+ (2018) that Samsung is promoting heavily is face recognition. This isn't the same as the iris recognition feature on Samsung's top-end phones, but is much more like what you'd get with the OnePlus 5T. In our experience, it just didn't work well, either failing completely or taking more than five seconds to unlock the phone every time we tried it. This was despite trying to enrol our faces multiple times to account for poor lighting or angles. There's an option to make recognition quicker by reducing the security threshold, which we obviously do not recommend.
The camera app has stickers (some of which are live and animated with sound), filters, and Bixby Vision for object and place recognition. It isn't immediately clear how you're supposed to switch between the two front cameras – there's a Live Focus mode shortcut right within the viewfinder which lets you take shots with background blur, and then there's a Wide Selfie mode in the hidden menu that you have to swipe right to see. In both cases, there doesn't seem to be much of a difference in the composition of frames when using the secondary camera. In Wide Selfie mode you still have to physically pan the phone from side to side, whereas some other phones have a wide-angle lens that just gives you a wider frame.
This might be Samsung's first phone with dual front cameras, but there really doesn't seem to be anything that really takes advantage of the second sensor. Live Focus gave us some fairly decent-looking results, and the phone lets you adjust the degree of background blur from the gallery app long after taking a shot. As far as the promise of low-light performance goes, we couldn't see much of a difference there either.
As for photos taken with the rear camera, results were a bit weak. If there was even lighting, the Galaxy A8+ (2018) managed well, though we would still have liked to see better handling of details and exposures. Objects at even a slight distance came out looking artificial, with noisy textures, rough edges, and overblown whites. At night, things took a drastic turn for the worse. If there wasn't a lot of artificial light falling directly on a subject, the phone could barely pick out any details whatsoever. Even on the phone's bright sAMOLED screen, it was clear that there was a ton of noise, and that you just couldn't see things even if you were standing right in front of them. We weren't expecting camera quality to be on par with that of the Galaxy S8, but this was totally disappointing.
Tap to see full-sized Samsung Galaxy A8+ (2018) photo samples
Video recording only goes up to 1080p with the rear as well as front cameras. You can choose the slightly wider custom resolution of 2224×1080, which at least doesn't crop your frames in order to fill the screen, but Samsung decided not to make this the default selection. There is digital stabilisation but not optical.
Battery life was good overall, and we were able to get through a full day of normal usage with about 15 percent left over. Our HD video loop battery test ran for 12 hours, 52 minutes which is not too bad for a phone with a screen this size to light up. We found that the phone charged up to 50 percent in slightly over half an hour, which is also good. Wireless charging isn't supported, in case you were wondering.

Samsung Galaxy A8+ (2018) in pictures
Verdict
The Galaxy A8+ (2018) is in a bit of an awkward position. It isn't very convincing when seen next to the OnePlus 5T (Review) and Honor View 10 (Review), especially because of the features and capabilities that Samsung still reserves for its flagships. We don't think the new Galaxy A8+ it's strong enough to fend off the OnePlus 5T at exactly the same price. Camera quality is severely disappointing, and the implementation of dual front cameras just leaves us confused. Despite its Infinity Display, the phone's design doesn't really scream for attention. While the performance is good, it's let down by software bloat. On the other hand, high-quality sAMOLED screen is great, and the battery life is excellent.
With that said, Samsung needs to figure out how to give its phones at this price level a strong identity and build on unique capabilities such as Samsung Pay, because the Galaxy A8+ (2018) definitely can't compete on specifications and cost. Right now, Samsung's own Galaxy S7 looks more attractive thanks to its lower price. The Galaxy S8 is also soon to be replaced, which means it will become more affordable as well.
For the latest tech news and reviews, follow Gadgets 360 on Twitter, Facebook, and subscribe to our YouTube channel.
Samsung Galaxy A8+ (2018)

Buy
Design
Display
Software
Performance
Battery Life
Camera
Value for Money
Good
Large high-quality sAMOLED screen
Good battery life
Lots of RAM and storage space
Bad
Heavy and bulky
Face recognition is flaky
Software bloat
Below-average cameras
Read detailed Samsung Galaxy A8+ (2018) review
BUY AT
Samsung Galaxy A8+ (2018) (Gold, 64GB, 6GB RAM) –

Samsung Galaxy A8+ (2018) (Black, 64GB, 6GB RAM) –
["Source-gadgets.ndtv"]