Adobe Climbs After Sales Jump for Growing Software Suite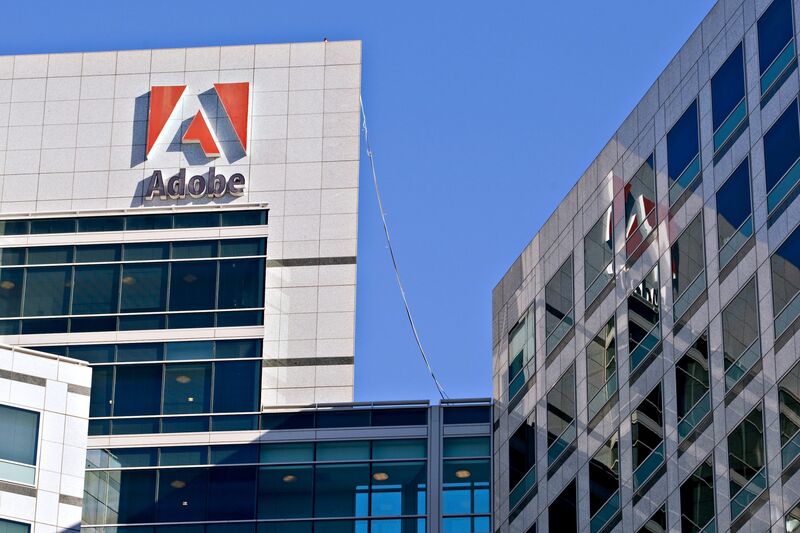 Adobe Systems Inc. reported fiscal first-quarter sales and profit that beat analysts' estimates on strong growth from an expanding suite of digital-media software and a surge in subscriptions.
Revenue jumped 24 percent to $2.08 billion and profit, excluding some costs, reached $1.55 a share in the quarter that ended March 2, the San Jose-based company said in a statement Thursday. Analysts expected $2.05 billion in sales and earnings of $1.44 a share, according to data compiled by Bloomberg.
Adobe is raising prices on popular software like Photoshop next month. Analysts said that helped subscription sales as customers looked to lock in lower rates. The company said revenue was boosted by subscribers coming off discounts and users buying multiple, not just single, applications. Adobe shares rose 3.5 percent in extended trading, after closing at $218.87 in New York.
Chief Executive Officer Shantanu Narayen pushed Adobe to a cloud-based model in 2012, and is now trying to diversify. The company has sought growth through its digital marketing unit, offering new tools for advertisers, but it faces competition from Salesforce.com Inc. and Oracle Corp. As a result, Adobe has added to its original business by investing in new creative applications, including XD, for designing digital user interfaces. Those offerings boosted growth in the most-recent quarter.
"This speaks to the organic demand that exists for people to create content and monetize content," Narayen said in an interview. He also cited strength in video and PDF products.
The company reaffirmed its 2018 profit forecast of $6.20 a share. Earnings in the current quarter will be $1.53 a share on revenue of $2.15 billion, Adobe forecast.
Adobe has become a darling of investors in the last six years because of its strong revenue growth after transitioning to the cloud. The company's stock has surged 25 percent so far this year, after jumping 70 percent last year.
While investors have been bullish on Adobe's transition to a subscription-payment model from lump-sum licenses, they've been eager to see more consistent acceleration in the company's marketing business. The division grew 16 percent to $554 million in the latest quarter, slower than the digital-media unit.
Revenue from Adobe's digital media and creative software, the largest business, climbed 28 percent to $1.46 billion. The company will raise prices on cloud-based software, including Photoshop and Premiere, for the first time on April 16, citing the development of new capabilities and premium features.
Adobe, which has long had dominant market share in creative software, has competed with Salesforce and Oracle products in marketing.
"We welcome competition, but as the clear leader we're going to assume that people are going to follow us," Narayen said.
 source:-bloombergquint.