Apple devices make hundreds of false 911 calls from refurbishment centre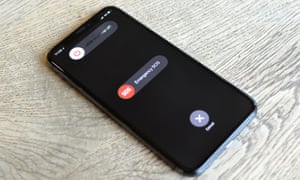 Around 20 false emergency calls a day have been made from one of Apple's refurbishment centres since October – and it's not clear how.
Emergency dispatchers in California have fielded in the region of 1,600 accidental calls originating from a repair and refurbishment centre in Elk Grove, with no one on the other end.
"We've been seeing these calls for the last four months from Apple," police dispatcher Jamie Hudson told CBS, explaining that the instances take up valuable seconds away from real emergencies. "We're able to see quickly where the call is coming from, so when we get one from Apple, the address will come up with their location."
The refurbishment centre handles Apple devices, which include its iPhone and Apple Watch. The devices recently gained 4G connectivity in some models and can be used to conduct an emergency call without requiring an iPhone or wifi.
Dispatchers describe hearing people talking in the background about Apple devices, maintenance and repairs, but it's not clear how the calls are being triggered. Both the iPhone and the 4G Apple Watch can make the calls without a sim or phone contract. When the calls began they appeared to follow the release of iOS 11 in September, which introduced an "Emergency SOS" feature that can automatically call emergency services and contacts through a series of gestures.
On older iPhones, rapidly pressing the power button five times brings up a slider on the screen to call 911, while on the iPhone 8 and X pressing and holding the power button and a volume button brings up the slider. On the Apple Watch, pressing and holding the power button is enough to trigger the emergency call.
Apple said in a statement: "We're aware of 911 calls originating from our Elk Grove repair and refurbishment facility. We take this seriously and we are working closely with local law enforcement to investigate the cause and ensure this doesn't continue."
But this is not the first time emergency services have been inundated with accidental calls from Apple devices. Ottawa County dispatchers complained to local news WNEM that 10 accidental calls a week were being made by Apple Watch users, while the same thing was happening in Tolland County, which issued a warning to the smartwatch owners about a spike in the accidental wrist-dials.
source:-.theguardian