Wafic Saïd, the billionaire philanthropist and arms deal fixer, is considering legal action against Barclays after the bank forced him to close his personal accounts and those associated with his charities and business ventures.
Saïd, who fled Syria in 1963 to escape a military coup, accused Barclays of using him as a scapegoat to improve its own reputation after being told in December that he was no longer wanted as a customer.
PR company Bell Pottinger, run by Margaret Thatcher's former adviser Lord Bell, issued a statement on his behalf on Friday: "Mr Saïd has been advised by leading counsel to issue proceedings against Barclays."
The claim could be made under the data protection act as the bank would not tell Saïd the reasons for its concerns.
Barclays said: "We never comment on these matters because of client confidentiality. We treat each case on individual merit."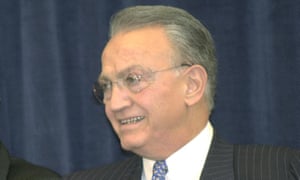 Saïd – whose family donates to the Conservative party – may have to find new bankers for his charity, the Saïd Foundation, which has its head office close to close to Buckingham Palace and lists Sir Michael Peat, former private secretary to the Prince of Wales, as one of its trustees.
The Foundation, according to its website, helps children and young people with disabilities in Palestine, Lebanon and Jordan, and backs the Saïd business school at Oxford University.
The 76-year-old is credited with helping Saudi Arabia buy British weapons in 1985 in the biggest arms deal in history, known as Al-Yamamah. An investigation by the Serious Fraud Office investigation into allegations that BAE had paid bribes to Saudi princes to win lucrative contracts was abandoned at the intervention of the then prime minister Tony Blair.
Now based in Paris, Saïd has moved his personal account, as has his English-born wife, Rosemary, and two children.
The statement issued through Bell Pottinger said: "Despite high-level meetings and several requests, formal and informal, Mr Saïd was given no legal reason or justification for the bank's action. Indeed they told his representative that if, for example, someone had an address in Brazil the bank would close their accounts.
"It appears that Mr Saïd and his charities are being used as scapegoats by Barclays to try to improve their own reputation. Mr Saïd enjoys excellent relationships with a number of leading international banks, none of which has ever expressed concerns regarding the provenance of Mr Saïd's funds."
The bank is thought to have been concerned it could not satisfy regulators about its anti-money laundering procedures. Barclays – which is scrambling to restore its reputation in the wake of fines for rigging Libor and foreign exchange markets – was last year fined £72m by the Financial Conduct Authority for running the risk of being used to launder money or finance terrorism.
Saïd is "taking every action possible to ensure his charities are protected and do not suffer financially as a result of Barclays' actions and he much regrets this irrational and irresponsible behaviour by the bank," he said in the statement.
"His charitable activities, which enjoy the full support of the Charity Commission, donate close to £7m each year to UK and overseas causes," the statement said.
Oxford University said finances of the business school were "entirely secure". No one at the foundation would comment.
Regulators have been tightening up their approach to the money laundering rules. Last year, HSBC faced criticism for closing accounts of charities. Its chairman, Douglas Flint, has warned that the risk of fines was making banks risk averse.
Asheem Singh, director of public policy at charity leaders group ACEVO, said he would be writing to Barclays. "The surest way to guarantee fraud or worse terrorist activity is to force humanitarian organisations to carry cash which may be misappropriated by dark forces running riot in areas of conflict and great human need," said Singh.
"Banks may do more harm than good by zealously denying essential financial services. We respect that each case has its own individual circumstance but we will be writing to the head of Barclays bank to seek assurance that such cases are being decided on the basis of rigorous, impartial and unimpeachable protocols and that the moral dilemmas for charities operating in conflict zones are properly understood. The obverse would be damaging for all of us," Singh added.
Oxford University said: "The [Saïd] School is an academic department of the University of Oxford and its funding is derived from numerous sources which include research funding and student fees.
"The Saïd Foundation now provides charitable grants to support a range of initiatives to advance the school's strategic objectives, including scholarships for students, awards for innovation in teaching, key School events and new approaches to career support for students. We are grateful to the foundation for its support and we look forward to this continuing."