Sainsbury's confirms £1.4bn Home Retail bid as Steinhoff pulls out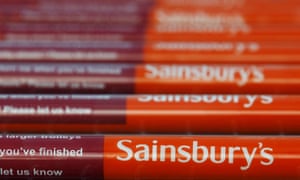 Sainsbury's has tabled a £1.4bn takeover of Home Retail Group after South African retail group Steinhoff ditched plans to make a rival bid for the Argos owner.
The supermarket confirmed its offer with less than half an hour to go before a 5pm deadline on Friday set by the Takeover Panel.
Mike Coupe, chief executive of Sainsbury's, said: "The combination of Home Retail and Sainsbury's is a powerful one that will create long term shareholder value for both companies." He insisted the merger was not risky but "well within the executional capabilities" of the Sainsbury's management team.
The Sainsbury's cash and shares bid marks no change from the deal agreed with Home Retail's board last month.
At the time, Home Retail said it would be prepared to recommend an offer at that level to shareholders. Sainsbury's said on Friday that it had not secured a recommendation from Home Retail's board ahead of the Takeover Panel's deadline – which it attributed to the late withdrawal of Steinhoff's offer. Home Retail said it was looking forward to "working towards a recommendation".
The unchanged bid is likely to be disappointing for the Argos-owner's shareholders who were hoping that £100m extra in annual cash reserves revealed by Home Retail last week and a competing bid from Steinhoff would lead to a higher offer.
Steinhoff, which owns furniture chains Bensons for Beds and Harveys in the UK, released a statement to the stock exchange in London confirming withdrawal of its £1.42bn offer on Friday afternoon.
Home Retail's shares closed down nearly 10% at 163.2p and Sainsbury's shares closed down nearly 3% at 273.2p after Steinhoff withdrew its offer.
Markus Jooste, CEO of Steinhoff, said Home Retail was a "compelling business with unique attributes that remains attractive on many fronts".
But he added: "Having concluded our due diligence review and ancillary discussions, we have evaluated our findings against our investment criteria and today come to a decision not to proceed."
The reason for Steinhoff's withdrawal became clear minutes later when the company, which also owns the Conforama electricals and furniture chain in France, confirmed it had agreed a deal to buy French electronics retailer Darty for £673m.
The withdrawal of Steinhoff's potential offer cleared the way for Sainsbury's to finalise its planned takeover of Home Retail which has been under discussion since last year.
Sainsbury's sees the acquisition of Argos as a way to accelerate its attempts to tap into the fast growing online market.
Sainsbury's said the merger would create "a leading food and non-food retailer of choice for customers, building on the strong heritage of both the Sainsbury's and HRG businesses whose brands are renowned for trust, quality, value and customer service."
The company also said it had found £40m more financial benefits in merging its operations with Home Retail – taking the total to £160m – after looking through the Argos-owner's books over the last few weeks.
Sainsbury's said it believed it could add more Argos stores and increase savings by combining central operations – potentially meaning more head office job cuts. It made clear that it would not overpay for Argos, so shareholders will be watching closely to see if Sainsbury's has been forced to increase its offer to oust Steinhoff from the process.
[Source:- Gurdian]