Find inspiration every weekend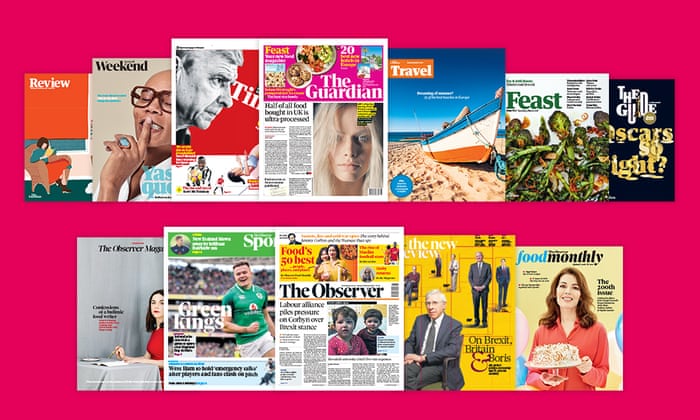 Saturday
Journal
Read deeper into the issues behind the headlines. Sitting at the heart of the Saturday paper, the Journal offers beautifully informed opinion and analysis from commentators such as Jonathan Freedland, Gary Younge, Polly Toynbee and many more.
The Guide
Whether you're planning a night of culture and entertainment or looking to catch up on the latest music and film releases, The Guide has you covered. Get our pick of what to watch, listen to and see every Saturday.
Review
Review is our must-read literary and cultural supplement. You'll find thought-provoking essays and incisive reviews of new books. You'll also enjoy insightful interviews with leading authors and news from the literary world.
Weekend
Make more of your weekend with thoughtful features on everything from life stories and experiences to parenting and relationships. Enjoy bestselling novelist Elena Ferrante's new column about life, love and everything in between, as well as writing from Tim Dowling, Hadley Freeman and others.
Travel
Get expert tips and inspiration for your next trip. Our pull-out travel section is filled with unexpected delights and hidden gems at home and beyond.
Feast
Our 24-page magazine brings the Guardian's award-winning food writers together in one vibrant supplement. Yotam Ottolenghi, Anna Jones and Thomasina Miers appear alongside Ruby Tandoh's baking tips and reviews from our new restaurant critic, Grace Dent. Beautifully designed, Feast can sit on your shelf for you to come back to again and again.
Sport
Find out everything you need to know about the weekend's sporting action. Our Sport section features intelligent commentary, in-depth interviews, previews and more, from top writers including Martha Kelner and Barney Ronay.
Sunday
The Observer
Get to grips with rigorous, thought-provoking journalism in the world's oldest Sunday newspaper. Enjoy an in-depth perspective on the world's biggest issues – and those that often go under-reported. You'll also discover illuminating debate and ideas from writers such as Victoria Coren Mitchell and Andrew Rawnsley.
Sport
Enjoy our informed, enlightening coverage of everything that's happening on and off the field of play. Our comprehensive Sport section is filled with insight and analysis from some of the world's top sport writers such as Daniel Taylor.
The New Review
Make space to reflect and unwind, with ideas and thoughts across culture, technology and society. The New Review also unwraps the best cultural offerings, from film and theatre to books and TV, with reviews and opinions from Stewart Lee, Mark Kermode, Kitty Empire and others.
Observer Magazine
Get closer to the major topics of the day. From interviews with A-list stars to moving and inspirational personal stories and social issues, the Observer Magazine features everything you need to make your Sunday. Eva Wiseman, Nigel Slater, Nikesh Shukla, Mariella Frostrup and Jay Rayner offer words of wit and wisdom, interspersed with stunning photo-reportage from around the world.
OFM
Observer Food Monthly continues to build on its reputation as one of the world's leading culinary magazines. Inside its thoughtfully designed pages, you'll find recipes, reviews, news and more from Jay Rayner, Nigel Slater and other top names.
Subscribe to the weekend papers
Observer from just £2.49/week
Weekend from just £4.79/week
Plus if you opt for a paper + digital subscription you'll also get access to the daily tablet edition and premium-tier app all week.
["Source-theguardian"]