Kim Jong Un looks to the East for economic inspiration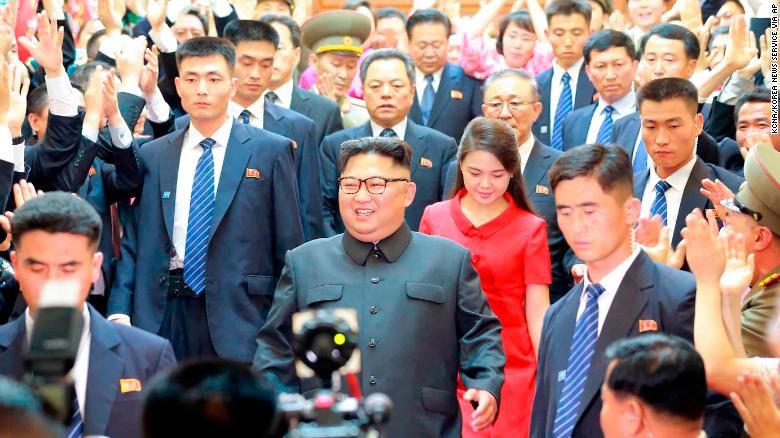 Touring Singaporean shipyards one day, visiting Chinese agricultural exhibitions and traffic control centers the next, Kim Jong Un's engagement with the region has had a decidedly economic air of late.
The North Korean dictator returned to Pyongyang late Wednesday after his third visit with Chinese President Xi Jinping. The two discussed Kim's meeting with US President Donald Trump, but also focused on how North Korea can move forward economically now too. That is as much a priority for China, its greatest ally, as it is for North Korea.
Since the historic June 12 meeting with Trump, Kim and the North Korean regime have worked to shift the focus from nuclear brinksmanship onto the economy, something that is surprisingly evident, even in the information it has chosen to disseminate to its own people.
In a propaganda video on Kim's summit with Trump shown on North Korean state TV, a surprising amount of time was given to lauding the city-state of Singapore.
In the more than one-hour-long film that documented Kim's movements from the tarmac at Pyongyang airport onto an Air China flight, to descending a red carpeted stairway to meet Singaporean officials, the film paid as much attention to the bright lights of the modern city as it did to where Kim went, who he met, and how many hands he shook.
The decision to showcase Singapore — an overtly prosperous industrialized nation — may seem strange given North Korea's strident denouncement of capitalism.
But Kim's recent embrace of the West suggests he's becoming increasingly pragmatic about his country's future.\
The young leader has made no secret of his determination to lift his country out of crushing poverty.
After years of isolation Kim is now using nuclear leverage to seek entry into the international community, and in doing so is exploring avenues for the country that might lead to economic growth.
The economy has been a repeated theme in Kim Jong Un's "New Year" speeches, too.
In his most recent, Kim Jong Un praised North Koreans' heroism for enduring the sanctions. Despite the "difficult blockade," they have "firmly trusted, absolutely supported and dynamically implemented our Party's line of simultaneously promoting the two fronts," Kim said.
Those two fronts refer to Kim's twofold strategy of investing in the economy and the nuclear program.
In many ways, Singapore is an ideal economic model for Kim.
After it broke from the Malaysian Federation in 1965, Singapore, struggling financially and politically, embarked on massive social and economic reforms, all the while ruled with a strict hand by leader Lee Kuan Yew and his People's Action Party.
During this time, and for decades beyond, Lee maintained stringent control over most every aspect of the city-state. Political opponents were sued for libel, chewing gum was banned, and the media "subordinated to the overriding needs of the integrity of Singapore," Lee said before his death in 2015.
"When Kim got to Singapore he would have to think about his own country, and while Kim was able to buy himself ninth place in the nuclear weapons stakes, he's looking for a way to transition his own society," said Joseph Siracusa, professor of human security and international diplomacy at RMIT University in Australia.
"One of the things he would have learned is that the founder ran a tough place, was an authoritarian. Kim saw that Lee Kuan Yew sought public order above all else. He also never took foreign aid, he took foreign investment, and that is something that would weigh very heavily on this guy," Siracusa told CNN.
Kim surprised Singaporeans and tourists when, on the eve before his meeting with Trump, he took a tour around the city, something the North Korean propaganda film spent much time showing.
He visited the Great Flower Garden, North Korean news anchor Ri Chun Hee gushed to viewers. She noted that the garden was "made by reclaiming tide lands around Marina Bay, and mainly carries plants that do not grow in Singapore."
The "Dear Supreme Leader enjoyed a nocturnal bird's-eye view of the city" from the observation deck of the famous Marina Bay Sands, a hotel and entertainment mecca with an infinity pool, lookout point, and the Ce La Vi bar and restaurant on the rooftop.
Wherever he went, Kim received a rapturous reception. People crowded streets and sidewalks to cheer him, snap his picture, and wave wildly at the North Korean autocrat.
He also visited Singapore's port, which the news anchor informed viewers was known as the world's busiest. "As the supreme leader looked around the port, he said that he could get to know well the potentials and development of Singapore's economy through that day's tour, adding that he came to have a good impression of the country," she said.
That good impression would likely have carried back to Pyongyang said Siracusa.
"Kim would have been very struck looking very closely at a place that he knows has gone from a backwater to this First World landscape, and asked himself how it did this," Siracusa told CNN.
"When he says he's in a science fiction movie with Donald Trump, he's looking at his future, he wants a place like that to attract people, he's thinking about foreign money coming in. He really thinks North Korea could be a tourist destination."
Kim's economic options
It was only last month that, shortly after North Korea detonated buildings and tunnel entrances at the Punggye-ri test site in the province of Wonsan, Kim Jong Un inspected development at a nearby tourist zone that he hopes will attract foreign investment.
His lifeline for dollars coming in from the outside have largely been through China, which maintains a border crossing with the isolated regime in the city of Dandong, which is separated from North Korea by the Yalu River.
Sanctions have squeezed the Chinese city, and the trucks that once sped along the highway with regular frequency now rarely make the journey across the border.
But even as the Trump administration touts North Korea's readiness to denuclearize in exchange for sanctions relief, there's little evidence to suggest the "soft authoritarianism" exercised in Singapore would be the model Kim Jong Un would necessarily subscribe to, says Andrew O'Neil, dean of research at the Griffith Business School in Australia.
"While the economic achievements of Singapore are extraordinary, they have been based largely on state-led capitalist development modeled on South Korea and Taiwan, coupled with Singapore's geographical location as a key entry point into a region that has experienced the world's fastest levels of economic growth," O'Neil told CNN.
"North Korea's situation is very different, and economically, in relative terms, is more comparable to the situation South Korea was in during the early to mid-1960s," he said.
Whither the Chinese yuan
Whatever kind of quick rapport Kim might have struck with Donald Trump, he was back in Beijing a week after their historic encounter to debrief his steadiest benefactor and champion, Chinese President Xi Jinping.
Xi said that "Kim's third visit in less than 100 days has ushered in a new chapter in high-level bilateral exchanges."
Adding that he is "looking forward to seeing a peaceful, stable, developing and prosperous peninsula and North Asia thanks to the joint efforts of all sides."
Kim, meanwhile, noted that "bilateral ties are as close and friendly as family" and that he would "play his due role in preserving peace and stability in the region."
The Chinese government has sounded positive notes about the June 12 meeting and wants North Korea's sanctions relief to begin soon.
"China always holds the view that sanctions are not the goal," China's Foreign Minister Wang Yi told reporters after the summit. "
Actions by the UN Security Council should support and coordinate with the current diplomatic dialogues and efforts on the denuclearization of the Korean Peninsula, and the promotion of a political settlement on the peninsula issue," he said.
During his recent visit to Beijing, Kim joined Xi in touring numerous showcase development facilities, including the Beijing Municipal Track Traffic Control Center and State Agricultural Sci-tech Innovation Institute.
"To be honest, the Chinese have been trying to engage successive North Korean leaders in the idea of embracing Chinese market reforms, taking growth triangles seriously, and opening up key sectors of the North Korean economy to little avail," said O'Neil.
"It might just be that the towering skyscrapers and bustle of Singapore had a big impact on Kim Jong Un last week, but whether it impels serious economic reform at home, much less political movement from totalitarianism to authoritarianism, is something I'm dubious about."
Normalization, or maybe not yet
For some observers, the most likely example Kim could follow is that of Vietnam, a Communist nation that went from being an American enemy to a partner in trade and security.
A reform program adopted in the mid-1980s promoted a "socialist-orientated market economy," similar to China's, with a five-year plan that pushed for a 70% increase in exports.
It was followed in the early 1990s by normalization of relations between the US and Vietnam, and the entry of American investors and the opening of a US embassy in Hanoi.
In the heady days that followed Kim's first meeting at the demilitarized zone with South Korean President Moon Jae-in this April, the two discussed the creation of economic zones and re-opening a railway line between the two Koreas that would stretch into China and the rest of the continent.
There, Moon gave Kim a USB stick that detailed three proposed "development belts" covering energy and natural resources; transportation, logistics and industry; and environment and tourism.
North Korea has plenty of promising prospects and many willing partners. The Center for Strategic and International Studies said the strategy employed by the US administration was a "Mini-Marshall Plan, prepared and executed in coordination with US allied partners Japan and South Korea, to assist North Korea in developing a self-sustaining economy."
"This will include help in modernization of the power grid in North Korea, expansion of the mining and minerals industry leading to major sources of income from mineral exports, and revitalization of the agricultural sector, with the goal of becoming self-sufficient in food production," the report said.
Beyond the proposals there is still the question of what Kim will do, and there are enough skeptics who say he will continue to hold the world at ransom for his nuclear arsenal in return for economic concessions.
"My sense is the intent of the (propaganda) video was to illustrate the international legitimacy of Kim Jong Un and to 'show him off' to his people," says David Maxwell, a retired US Army Special Forces colonel and a fellow at the Institute of Korean American Studies.
"I think it was aimed at domestic political legitimacy. No matter how rich a country is, it has great respect for Kim Jong Un. A message might be that the sacrifice of the Korean people in the North to ensure the success of the revolution in the face of a hostile US and international community has been justified, because they have provided the foundation for Kim Jong Un's strength and stature in the international community while defending against a nuclear armed South Korea/US alliance."
Yet while Kim meets with international leaders and becomes quickly accustomed to being feted abroad, he is still mindful of his audience back home, one that is seeking modernization and progress, and on whom his own survival depends.
source:_cnn.