Home
»
Social Media
» TRUMP SAYS HE AND MODI ARE 'WORLD LEADERS IN SOCIAL MEDIA'
TRUMP SAYS HE AND MODI ARE 'WORLD LEADERS IN SOCIAL MEDIA'
President Donald Trump says he and Indian Prime Minister Narendra Modi are "world leaders in social media." The two leaders met at the White House on Monday, delivering a joint statement from the White House Rose Garden.
"I am proud to announce to the media, to the American people and to the Indian people that Prime Minister Modi and I are world leaders in social media. We're believers," Trump said.
"Giving the citizens of our countries the opportunity to hear directly from their elected officials and for us to hear directly from them," Trump added. "I guess it's worked very well in both cases."
Daily Emails and Alerts– Get the best of Newsweek delivered to your inbox
In what was Modi's first visit to the White House since Trump's inauguration in January, the two leaders discussed relations between their respective countries, working together to tackle terrorism and future business opportunities.
Trump also took the opportunity to praise Modi during his visit. "He is such a great Prime Minister. I have been speaking with him and reading about him," Trump said. "He is doing a great job. Economically, India is doing very well and in so many other ways. I would like to congratulate him for this."
He added to Modi: "I have always had a deep admiration for your country and your people, the rich culture and traditions."
"The relationship between India has never been better and stronger," Trump added.
Following the meeting, Modi said the talks with Trump had been very successful, describing them as "fruitful," Reuters reported, with the prime minister also confirming he had invited Trump to visit India.
Modi, proving the social media accolade from Trump, tweeted later on Monday: "Interacted with top CEOs. We held extensive discussions on opportunities in India."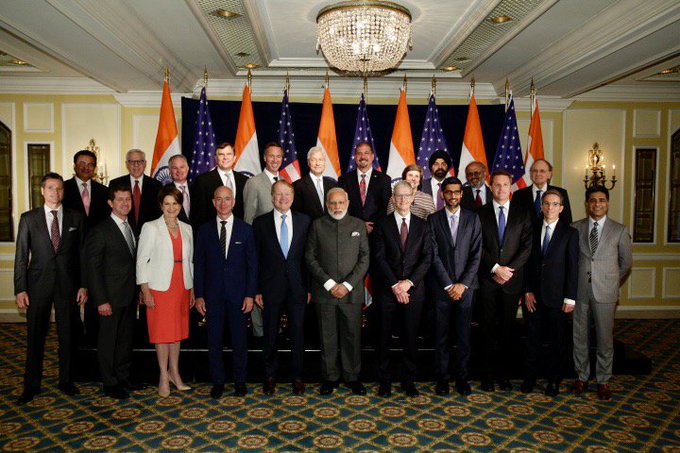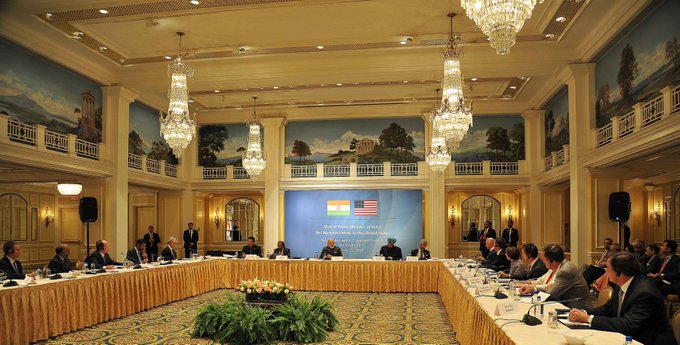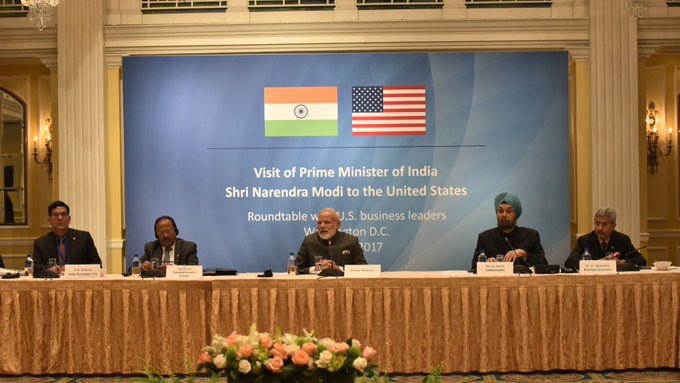 Narendra Modi

✔@narendramodi

Interacted with top CEOs. We held extensive discussions on opportunities in India.

3,3113,311 Retweets

13,39113,391 likes
[Source"cnbc"]
About Author
manage