Android 9 Pie: everything you need to know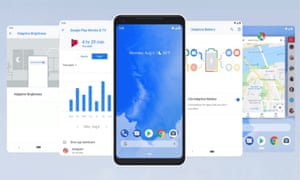 Google's next version of Android finally has a name: "Pie". It's rolling out right now and is packed with new features, from extended battery life to new gesture navigation.
Pie marks one of the biggest changes in the way Android looks and feels in some years, with a more colourful interface, a collection of new movement animations and rounded edges on almost everything. Thankfully, it's still as fast as Android Oreo, at least on Google's Pixel smartphones.
When can I get it?
Right now, if you have one of the recent Google Pixel smartphones or the Essential Phone via an over-the-air update. Either wait for the notification to update or head to Settings > System > Advanced > System update and hit the "Check for update" button.
Others will have to wait for their smartphone manufacturer to deliver the update. Those with phones such as the OnePlus 6 that were included in the Android P beta programme over the last couple of months will probably see the update soon. Those with Samsung, Huawei or other mainstream manufacturer devices may have to wait some time to see the update on their phones.
How much does it cost?
Android 9 Pie is a free update for eligible devices – if you are ever asked to pay for Android updates, someone is trying to con you.
The new gesture navigation button occupies the same space as the traditional on-screen buttons, but the home button is now a pill-shape and it moves.
Tap it to go home, flick it up to see recently used apps, swipe upwards twice or pull it up further to get to the app drawer, or hold it down to activate Google Assistant. Youcan also drag it to the right to switch to the last app (similar to the double tap of the overview button) or drag and hold to cycle through recently used apps.
The back button still appears when needed, but the overview button has gone.
The gestures are not activated by default for now, which means to try them out head to Settings > System > Gestures and toggle the "Swipe up on Home button" option.
Rotation suggestion
It's a small change, but arguably the most useful. Now when you have rotation lock turned on to stop the screen rotating orientation accidentally, and you turn on your phone intentionally, a little button appears in the navigation bar.
Tap the button to rotate the screen from portrait to landscape or vice versa – perfect for those few times that you actually want the screen to rotate but not, say, when you're lying down in bed.
Time on the left for screen notches
Android 9 Pie has moved the time from the top right of the status bar to the top left. It may not seem the most dramatic of changes, but it makes room for screen cutouts called "notches", as found on the OnePlus 6 and Huawei P20 Pro, among others.
Google has decreed that only two notches may be used on one screen for it to be able to run its version of Android, so at least you won't have to deal with one in each side of the screen.
Adaptive Battery and Brightness
Short of navigation gestures, Adaptive Battery is the biggest improvement to Android. Using systems developed by Alphabet's AI-outfit DeepMind, Adaptive Battery learns an individual's usage patterns and directs the power to only the apps you need at the time you need them for more predictable day-to-day battery life.
So far users of the Android P beta programme on Google Pixels have found an increase in battery life in the region of 20%, which bodes well for longer-lasting Android smartphones.
AI has also been integrated into Android Pie's brightness control, so it will now learn from your manual adjustments – something you could be forgiven for thinking already happened.
Smart replies
Smart replies have been in several apps for a while, including Gmail and Google's dedicated Smart Reply app. But now they'll be pushed to more apps and accessible directly from the notifications for easy, one-button replies.
App actions
App actions is another AI-integration attempt by Google, which seeks to predict not only the app that you want at any particular moment, but an action from within that app too. For example, I normally play my Discover Weekly playlist from Spotify in the mornings, so when I open the app drawer at about 8am it's right there as a suggestion for one-tap access.
Text selection
Apple's iOS has had a magnifying glass for text selection for ages – now Android does too. Tapping on a bit of text still selects it, but when you drag one of the text selection handles you now see a magnified box appear immediately above your finger to make fine grain selection easier, particularly with tiny text.
Privacy
Google is revamping the way Android handles background apps to better protect user privacy. Starting with Android P, apps given permission for location, the microphone, camera and network status will no longer be able to access them when idle in the background. This means it will be harder for rogue apps to spy on users without their knowledge.
The changes follow a recent tightening of control over the running of apps that were made with Android Nougat and Android Oreo, primarily to prolong battery life and performance.
What happened to those smartphone addiction features?
While Android 9 Pie has been released, not all the features shown off by Google at its developer conference in May are fully baked yet. Two big new features have yet to arrive: Slices and Google's Digital Wellbeing tools. Expect them to materialise in the Autumn for Google's Pixel devices and later for other smartphones.
Slices
Slices displays information from apps directly within the Google search app, in a similar manner to the way Google displays snippets of information within boxes directly in web search results.
Examples include showing photos taken in Bali from Google Photos, when searching for Bali, or live prices and times to get you home from Lyft when searching for the app.
Digital Wellbeing
Google's anti-smartphone addiction tools, collectively called "Digital Wellbeing", are currently in beta testing for a select number of users. They include Dashboard, which shows you how much time you're spending on your phone and in apps; App Timer, which allows you to set time limits for certain apps; a beefed up Do Not Disturb (DnD) function that silences both visual and audible alerts; and Wind Down, which switches on DnD and fades the screen to grayscale as bedtime approaches.
To sign up for the beta on a Google Pixel smartphone running Android 9 Pie, go here.
source:-guardian