The Markle effect: black women see the royal wedding as workplace inspiration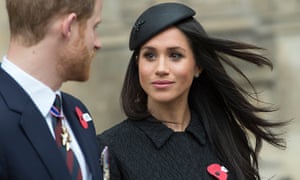 As final arrangements are set for the wedding of the US actor Meghan Markle to Prince Harry Windsor, hopes are mounting among some that the Markle effect will have unexpected impacts, including improving opportunities for African American women in the workplace.
"It's exciting for black women, and I think it's going to be inspirational," said Camille Newman, a 38-year-old Brooklyn entrepreneur. Newman expressed deep-felt enthusiasm in the union as a symbolic marker for the acceptance of black or biracial women in society and said other women of color she knew felt the same way.
"We're claiming her for a black woman's right to be in there like everybody else," she said.
One anticipated spin-off, she told the Guardian, could be the greater acceptance of black women across all sectors of society, including business. "As an entrepreneur I face so many challenges to find funding for my business. We're going to claim her and look to her for inspiration as an African American entrepreneur," she said.
Newman, owner of an online plus size clothing business Pop-Up Plus, pointed to a 2016 report from an Atlanta-based research initiative Project Diane report showing that black women receive startup and investment funding at punishingly low rates compared with white-owned businesses.
The study found that of 10,238 venture deals minted from 2012 to 2014, black women were recipients of just 24, or just 0.2%. Of the 24 that did receive funding they typically received just $36,000, compared to $1.3m received by white males.
It's a measure of the enthusiasm across the US, and specifically among African American women, for the acceptance of a biracial American woman into the whitest-of-white British royal family that Markle might now be unwittingly charged by some with correcting the tech industry's well-known diversity problem.
Markle has shut down her website The Tig, however, so her tech entrepreneur period may be behind her. Newman says she can only hope that the Markle effect (described as "the biggest influencer of all" by Business of Fashion) will help lift women in general.
"It's her race, her color, her class and it's her age. It's not just an African American woman thing, or an American thing, it's a woman thing. I think all women can be proud of her," said Newman.
Maya Jasanoff, author of Liberty's Exiles, a study of the Americans who remained loyal to the British cause during the revolutionary war, believes US passion for the royal wedding is an expression of enthusiasm for the celebration of an American generally, and specifically of an African American woman, coupled with the somewhat quixotic but intense US enthusiasm for the British monarchy.
"American enthusiasm for the British monarchy is so kind of crazy and excessive because it fits into celebrity culture in general. Then, when the icons in question are non-American, the standard sorts of divisions one would expect are not as pronounced," Jasanoff said.
With just a week to go, wedding fever has reached Markle's Los Angeles alma mater, Immaculate Heart high school, a private Catholic college preparatory school for girls in an affluent corner of east Los Angeles.
It will host an afternoon tea on 15 May to toast their former pupil, complete with singing, dancing and US and British flags.
"It's an opportunity for the school to come together and cheer our alum on. The students are all very excited," said Callie Webb, the school's communications director.
On the wedding day students, parents and teachers will set alarms for approximately 3am – there is an eight-hour time difference – to gather again for a viewing party of the ceremony at St George's Chapel at Windsor Castle.
"We surveyed our families to see if they'd be willing to come so early and we immediately had 150 responses saying yes," said Webb.
Two teachers from the theology department who taught Markle are still on staff, including Maria Pollia, whom the future actor called a mentor for humanitarian activism.
Years before Markle met Prince Harry the school took pride in her advocacy for women's rights, clean water and other causes. The school plays a speech she gave at a United Nations forum to history and social studies classes.
When journalists visit the school and ask younger students if they too would like to become princesses the answer is not always yes, said Webb. "But some say they want to be engineers or writers," she added.
source-.theguardian.