Tories can't win on social media due to 'vitriolic' abuse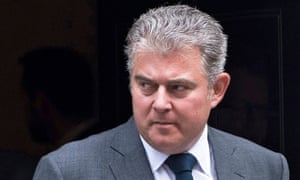 Conservatives are losing out on social media because supporters feel unable to share their views without attracting abuse, the Conservatives' new party chairman has said.
Brandon Lewis said his party's supporters found it difficult to conduct debates online but said his focus over the past few months had been how to gain ground on social media, where he admitted Labour had the upper hand at the last election.
"If you look at what happens on social media, if somebody on the right or the centre puts out a message, the attack from the hard left is sometimes unbelievably abusive and vitriolic," the MP told the House magazine. "For some people, if they suddenly get attacked by a huge number of hard-left people they've never met, that can put them off."
Lewis said: "Personal abuse and calling for physical abuse is completely unacceptable and we need to be able to differentiate between the two. What will happen otherwise is people from all political angles and views will start being put off from being involved."
Lewis, who took over as party chairman in January, has put an emphasis on MPs and activists fighting back against Labour attack lines, including on the environment and the NHS.
Animal welfare has been a key issue, with Conservative MPs simultaneously tweeting during programmes such as Blue Planet, to highlight the government's policies on plastics and water pollution.
Lewis has previously said he wanted to make it easier for Conservative-supporting teens and young adults to get involved in the party, including launching a "toolkit" for sharing content online including videos and gifs.
Conservatives have raised concerns in recent months about the dwindling number of activists in the party prepared to get involved in ground campaigns.
The number of party members is not public but believed to be about 100,000, though some Tory activists pushing for party reform say it is as low as 70,000. Among first-time voters in 2017, Labour was 47 points ahead.
Lewis said the party hoped there would be a backlash over young people being stereotyped as Labour supporters. "They're getting fed up with being told, because they're under 30, they must be Corbynistas," he said.
"They want to have their say because they do believe in having a free market. That's really good and we want to make sure they have the support they need."
Lewis said the party's next challenge was the May 2018 elections, which he said would be difficult, especially in the London seats that were "a very challenging dynamic for us".
"We've got work to do in London and elsewhere," Lewis said. "These are difficult elections and I can't shy away from that. But at the same time, we've got to take our case forward and put a strong campaign out there to make sure we do everything we can to give people good local governance with Conservatives and support for candidates around the country to win as many seats as we can."
source:-.theguardian
About Author
manage